Two AA Rosettes awarded to leading dales hotel restaurant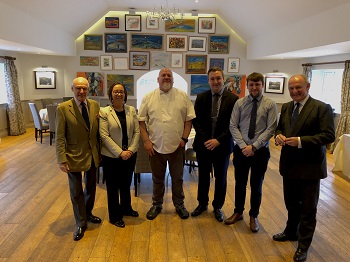 One of the Yorkshire Dales website's high profile advertisers, the Coniston Hotel Country Estate and Spa have announced that their flagship restaurant, Macleod's, has been awarded 2 AA Rosettes.
Macleod's was originally opened as a tearoom in 1992 and following the opening of the hotel in 1998 was relaunched as the hotel restaurant.
Nick Bannister, Director at the Coniston Hotel Country Estate and Spa commented: "Since the beginning of the year we have put a huge amount of effort and investment into developing our food offering; we brought on board Executive Head Chef, Simon Bolsover, whose work has included the development of our menus and the mentoring of our 15 strong team of chefs. During this time our whole team have shown true passion and we are absolutely delighted that their dedication and hard work has resulted in securing this fantastic accolade."
"We were truly delighted by some of the comments from the AA Inspector; he was very impressed in our ability to maintain complexity, delivering food of a 2 AA Rosette standard while catering for weddings, conferences and our second restaurant, Huntsmanís Lodge. He also made reference to the whole team delivering consistently high level of service, from check in to check out."
"I want to take this opportunity to say a huge congratulations to our amazing team, who have led us to this milestone achievement for the hotel and put Macleodís on the dining map."
The long-established AA Rosette awards recognise excellence within the hospitality industry and the best in cooking across the nation, and Macleod's restaurant joins an esteemed list of restaurants and hotels in Yorkshire.
[News item based on press release and photos supplied by the Coniston Hotel and Country Estate - posted October 2018.]
[N.B. Please mention the Eagle Intermedia Yorkshire Dales website when making your enquiries.]
---
The Yorkshire Dales is designed and maintained by Eagle Intermedia Publishing Ltd.