Blubberhouses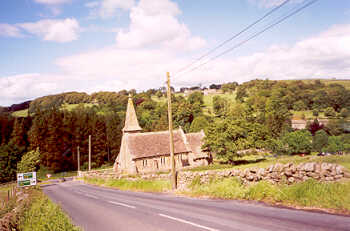 The strangely named village of Blubberhouses is situated just off the A59 near Thruscross Reservoir in the Washburn Valley.
The name of the village probably derives from an Anglo Saxon description of "houses near a blubbering stream", which presumably refers to the River Washburn which passes by. There are not many houses here though, and the most distinctive feature is the village church of St. Andrew's (pictured above) at a crossroads with the A59.
Other Blubberhouses related Websites
The following (external) websites and web pages may also be of interest:
[N.B. Please mention the Eagle Intermedia Yorkshire Dales website when making your enquiries.]
IMPORTANT: The above links may refer to external websites whose content, products and/or services are not necessarily recommended or endorsed by Eagle Intermedia. Please see the copyright and disclaimer statement for more information.
---
The Yorkshire Dales - Home Page
The Yorkshire Dales website is designed, maintained and promoted by Eagle Intermedia Publishing Ltd.