Braithwaite Wife Hole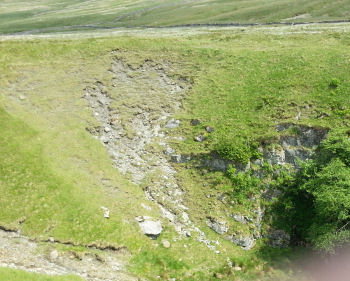 Braithwaite Wife Hole is a large hole in the ground at the northern end of the Southerscales area at the foot of the north eastern flanks of Ingleborough.
This is actually a collapse doline - a large shakehole which has been modified by subsidence from the underlying "Sunset Series" of passages which connect with nearby Meregill Hole (one of several cave and pothole systems for which the Southerscales area) is famous).
---
The Yorkshire Dales - Home Page
The Yorkshire Dales website is designed, maintained and promoted by Eagle Intermedia Publishing Ltd.