Hardraw Force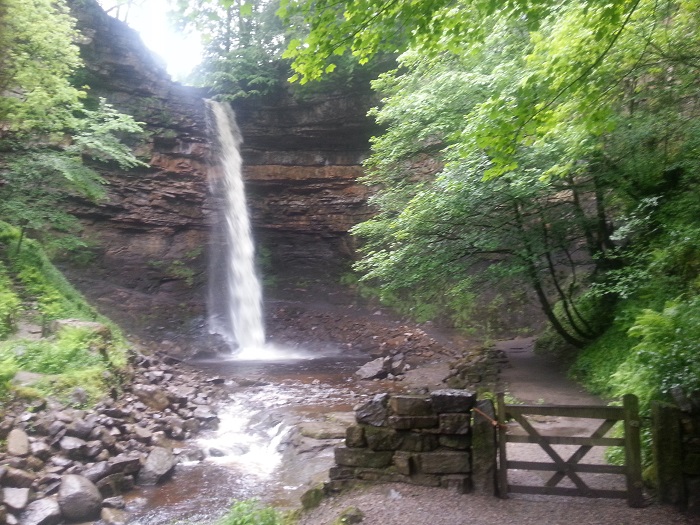 Hardraw Force is a spectacular waterfall in a wooded ravine just outside the tiny hamlet of Hardraw near to Hawes at the foot of Buttertubs Pass and the head of Wensleydale in the beautiful Yorkshire Dales, where the Pennine Way passes close by.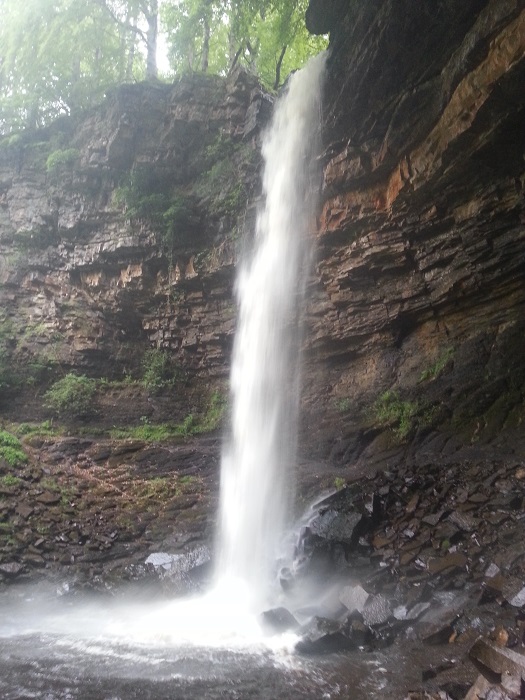 Comprising a single drop of 100 feet from a rocky overhang, Hardraw Force is claimed to be Britain's highest unbroken waterfall - at least discounting underground falls. [N.B. The waterfall inside nearby Gaping Gill on the western flank of Ingleborough has an unbroken fall of over 300 feet, but that is underground and hidden from view from the surface..]
Hardraw Force was painted by J.M.W. Turner, and the ravine in to which it falls was once crossed by the celebrated French tightrope walker Blondin (who was famed for his crossings of Niagara Falls).
Like many other waterfalls in the Yorkshire Dales Hardraw Force is of interest for its geology, a big cross section of the Yoredale series of shales and limestones being exposed in the cliff face here.
Over a long period of time the waterfall has retreated upstream due to erosion, and the ravine which it is at the head of has been carved out of the rocks by this process. A natural ampitheatre has been formed here, and there is a bandstand which is used for brass band competitions (the location having apparently been chosen for its great acoustics).
---
The Yorkshire Dales - Home Page
The Yorkshire Dales website is designed, maintained and promoted by Eagle Intermedia Publishing Ltd.